El Proyecto Spider es un modelo de vivienda móvil desarrollada a partir de la customización de Containers de trasporte marítimo.
The Spider Project is a mobile home design developed from the customization of shipping containers.
Trabajamos estos días en el concepto de cómo diseñar una nueva vivienda móvil prefabricada que fuese amplia cómoda y auto-suficiente, hemos diseñado un vivienda con un un coste competitivo y pensada para poder pasar temporadas en diferentes ambientes sin un abastecimiento constante. 
During these days we are working on a new mobile prefab home concept, we designed a wide, affordable and self-efficient house, thought to hold people for reasonable periods without a constant supply.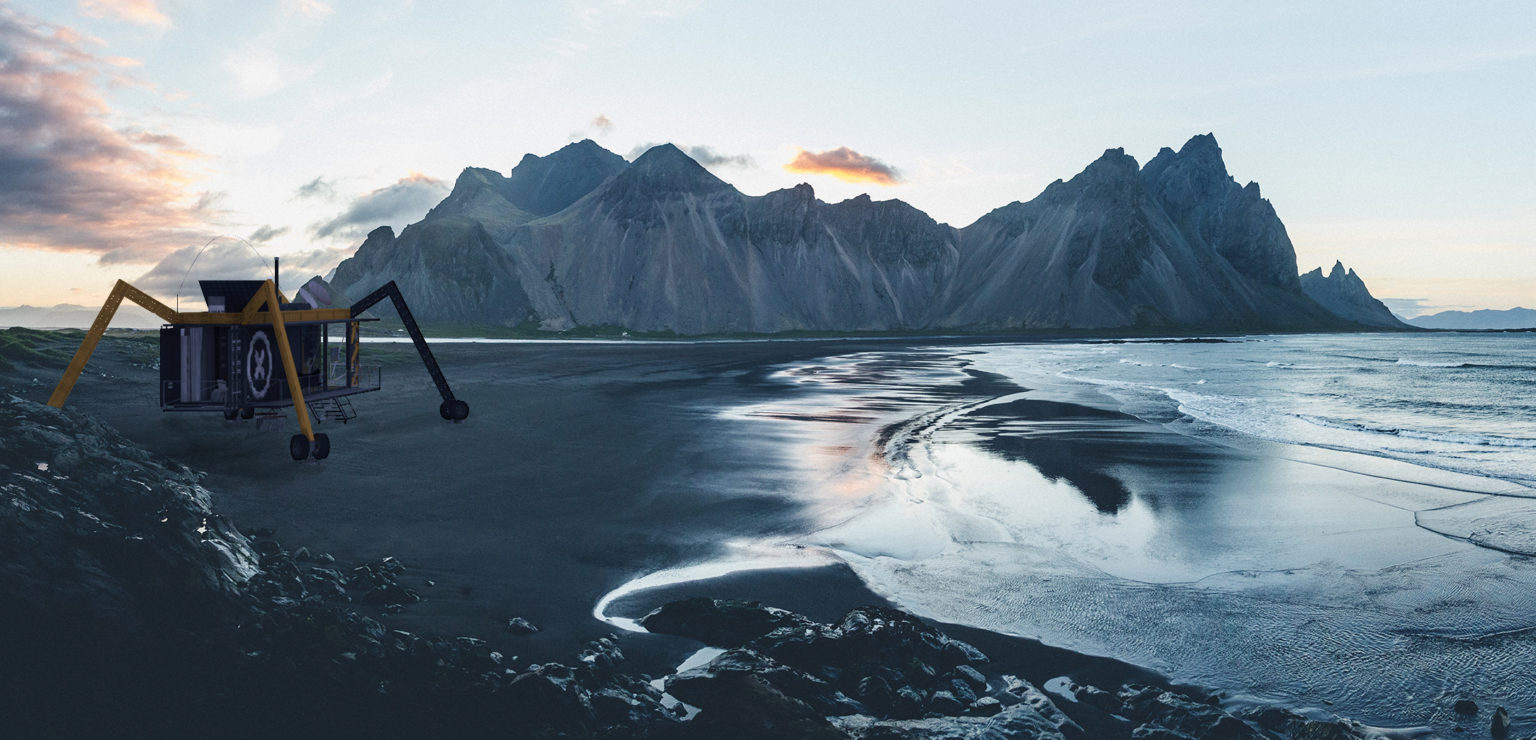 Diseñada a partir de un Container de transporte marítimo, hemos tomado elementos de diversos ambitos para poder customizarla y hacerla móvil, pudiendo así desplazarla a lugares apartados donde poder pasar una temporada sin dañar el entorno y disfrutando del paisaje.
Designed through a maritime transport Container, we took elements from different sectors to customize it, making it transportable and capable of being located on far sites where we could be able to pass a long stay without damaging the environment and allowing you enjoying the nature.
Hemos escogido en este caso un contenedor de transporte marítimo de 12,19m de largo por 2,44m de ancho y 2,59m de alto. En él hemos adicionado unas estructuras portantes móviles junto a unos ejes y unos piezas de apoyo.
In this case, we have chosen a standard shipping container with a length of 40ft by 8ft wide and 7.5ft high. In it, we have added some mobile structural pieces along with axles and support surfaces.
Dispone de un salón, una cocina utilitaria con 2 fogones, horno, fregadero y frigorífico, junto con una mesa alta y dos taburetes, baño, vestidor y dormitorio con terraza cubierta, además adicionamos una terraza lateral plegable y una entrada junto con la escalera retráctil inspirada en la que se usan en los aviones.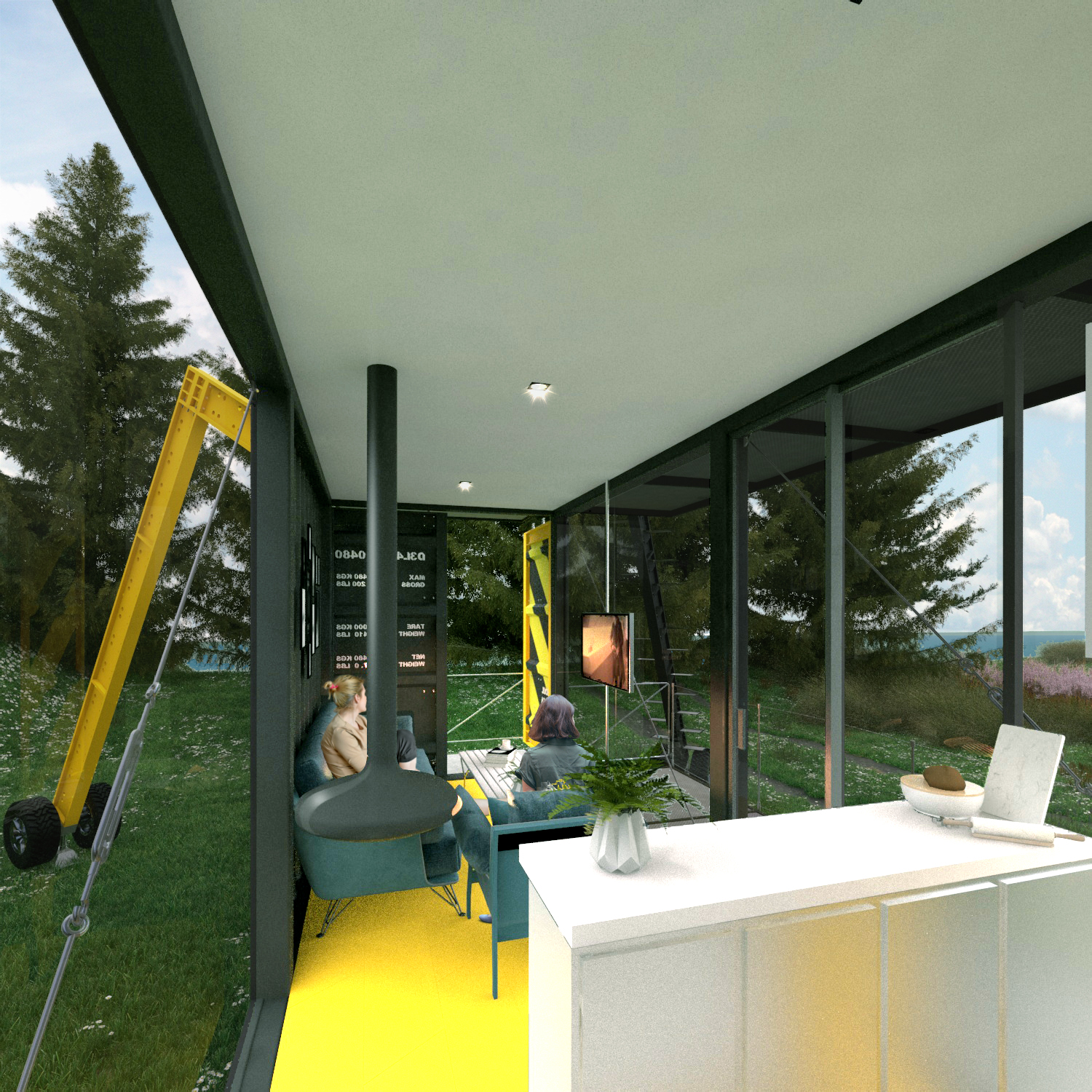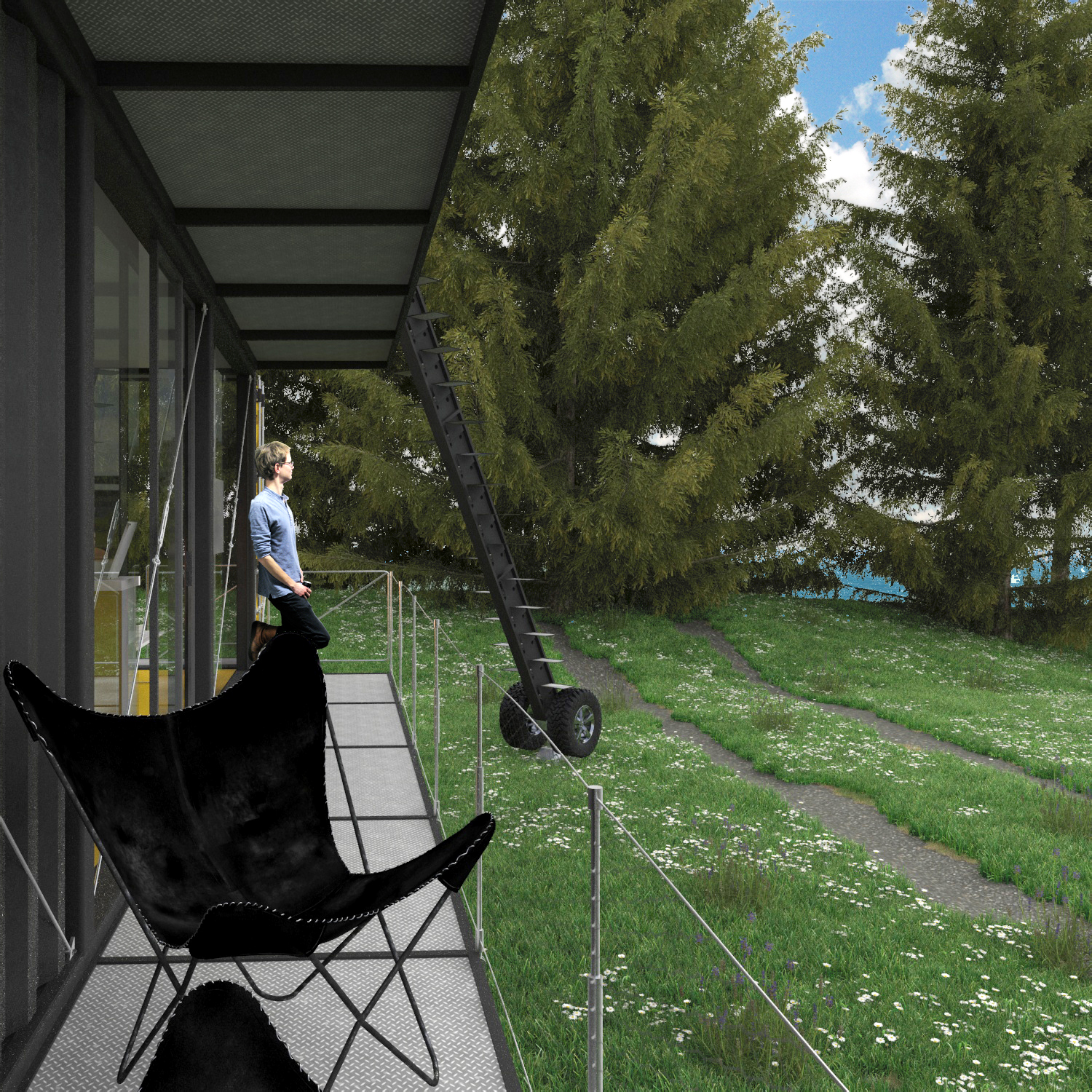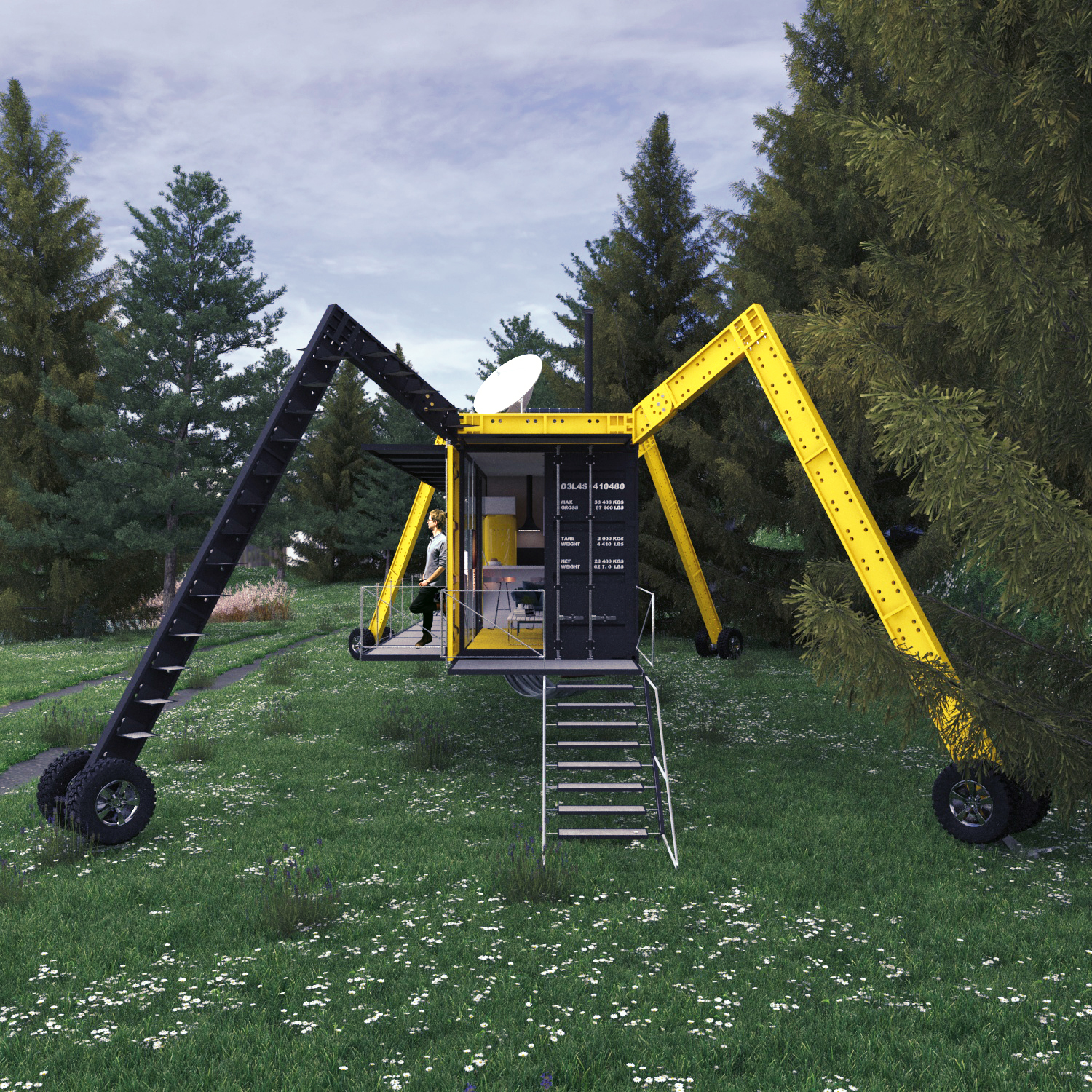 Cuenta con paneles solares en la cubierta junto con varios depósitos de abastecimiento de agua y recogida de desechos para dar servicio a los ocupantes durante varios días. También cuenta con sistema de comunicaciones, con parabólicas para televisión, Internet y una antena de radio.
It counts with solar and heating panels in addition to depots for water supply and waste collection to give service to the occupants for some days.
Also, it counts with a communication system, with parabolics for Tv, Internet, and a radio antenna.
Este proyecto de Arquitectura Nómada está diseñado para aquellos que les gustaría poder llevar su hogar a cuestas disfrutando del placer de viajar, conocer lugares perdidos y paisajes encantadores en medio de la naturaleza.
This project of «Nomadic Architecture» has been designed for those who would like to carry their home with them while they enjoy the pleasure of traveling, discover remote places, and stunning landscapes in the middle of the savage nature.